How to Add Variety to Your
Senior Activities
Tired of doing the same activities over and over again? Consider adding a variety of activities to shake things up a bit.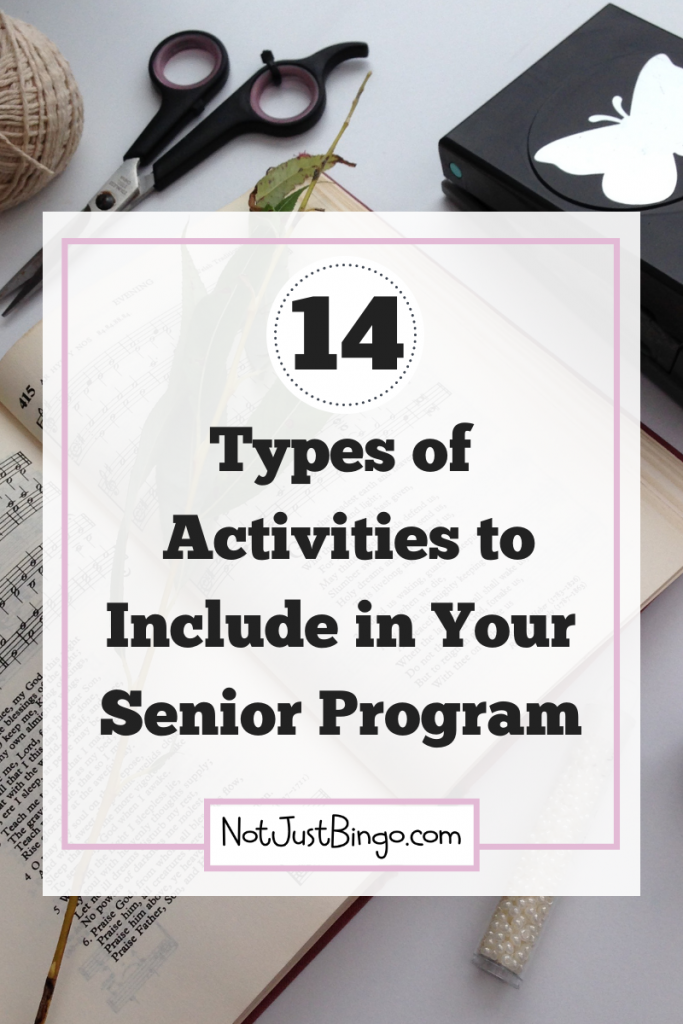 There are lots of different types of activities that you can include in your monthly activity calendars. Here are 14 to consider for your activity program:
1. Cognitive. Introduce new and fun large-group activities like Word Find, in which you list a large word and encourage residents to create smaller words using the letters from the large word.
2. Musical. Recruit residents to join a weekly Chorus Club in which you sing songs from the 1930s and 1940s. Provide residents with instruments to play along.
3. Spiritual. Invite residents to come for a morning devotion activity in which you share inspirational words from a daily or weekly devotion book. To encourage more participation, consider providing sweet treats at the meeting like cookies or cinnamon buns.
4. Physical. Each month host a fun, themed carnival that will get your residents up and playing fun games and winning prizes. For example, during August, host a Back-to-School carnival and invite the grandkids to stop by to play as well. Give out school supplies as prizes to the kids.
5. Tactile. Create activities that involve an assembly line, like a baking project or a woodshop project. For instance, if creating bird houses, divide residents into groups: one group to sand the wood, one group to assemble the pieces and one group to paint the bird houses.
6. Cultural. If your facility has employees from different countries, consider coordinating an international fashion show in which the employees wear attire representing their home countries.
7. Reminiscing. Each week pick a different subject to talk about with your residents, like childhood toys, school days in the 1940s, or a comparison of popular girls and boys names from today and from the 1930s.
8. Discussion. To boost participation in small-group discussion activities, consider passing around large-print discussion questions for each resident to read to begin the discussion.
9. Sensory. If possible, host a baking activity each day – the hour before a meal works best – to get residents' senses stimulated.
10. Historical. Appeal to your facility's history buffs by sharing interesting fun facts about a different historical figure each week.
11. Special Event. Try to include a special event each week for the residents to enjoy. For example, host a watermelon party or a build-your-own sundae party.
12. Outings. Take residents to local attractions that will pique their interests, like starting up a Coffee Club and taking them to sample a different coffee shop each month.
13. Social. Create a fun Club Day each month in which you set up a variety of four or five clubs at one time that residents can choose and participate. For instance, on a day that you have volunteers to help, set up a Chess Club for your chess lovers, a Baking Club for your bakers, an Art History Club (watching an art history DVD to learn about an interesting artist) for your art history lovers, a Woodshop Club assembling wood kits for your handy residents, and a Wine & Cheese Club for those residents who just want to lounge and enjoy wine and cheese.
14. Educational. Contact a local college or university to find free speakers to come to share their field of expertise. If possible, recruit members of the administrative staff to share their knowledge, like the nurse talking about nutrition or the social worker showing off her doll collection.