How to Set Up a Chocolate Tasting
for Your Senior Residents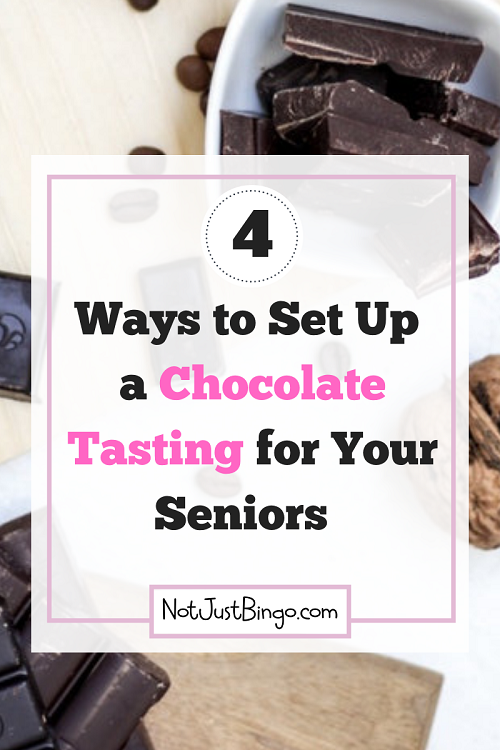 Would you love to set up a fun sensory stimulation activity for your senior residents using chocolate? If so, then consider scheduling a chocolate tasting!
Invite your residents to participate in a fun chocolate tasting, in which you provide different types of chocolate to sample. To make the activity interesting and educational, try to include the following elements:
1. Reminiscing. Help residents recall the chocolate that they enjoyed as children:
Share vintage brand chocolate bars with residents as you encourage them to discuss their favorite childhood chocolate bars.
Reminisce about the chocolate cakes that residents used to bake for their families during a Box Chocolate Cake Taste Test, where residents bake and taste-test chocolate cakes using different brands of boxed chocolate cake mix.
Pass out glasses of milk and Nesquik (formerly Nestle Quik) for residents to make their own chocolate milk like they did as kids.
2. Guessing. Allow residents to try to guess the type of chocolate that they are sampling:
Pass around a box of chocolates where each piece has a different filling, and encourage residents to try to guess the center filling of their candy before biting into it.
Take the labels off of Hershey's miniature candy bars, and have residents sample the bars to try to determine which candy bar they are eating.
Blindfold residents as you provide them a plate of different types of chocolates to identify by taste.
3. Comparing. Provide activities that allow residents to contrast different types of chocolates:
Create chocolate pairings with wine (e.g., red, white, and port), nuts (e.g., almonds, hazelnuts, and walnuts), or cheese (e.g., Havarti, Gouda, and cheddar).
Schedule a chocolate and coffee activity, in which residents sample a variety of chocolates with dark roast coffee to see which chocolate they prefer with the deep, rich coffee flavor.
Invite residents to participate in an activity to choose the "Best Chocolate Ice Cream Topping" by providing each resident with Dixie cups (small cups) of chocolate ice cream, with each cup containing a different topping on the ice cream, like Rice Krispies, crushed almonds, chocolate sprinkles, or chocolate sauce. Take a vote to see which topping wins as the "Best Chocolate Ice Cream Topping" in your facility.
4. Learning. Introduce residents to new styles and types of chocolate:
Introduce new chocolate candy bars to your residents that they may not be aware of, like Snickers Peanut Butter bars, Twix Triple Chocolate bars, or Hershey's chocolate bars with Reese's pieces inside.
Host a Hershey's Kisses Party where you educate residents about all the new and different Hershey's Kisses, like the milk chocolate Kisses, chocolate and almond Kisses, cookies and cream Kisses, vanilla Kisses, and caramel Kisses.
Organize a Chocolate 101 activity where you teach residents about the differences among chocolates as they sample them.