How to Instantly Make Your Senior Facility
Look and Feel Like Spring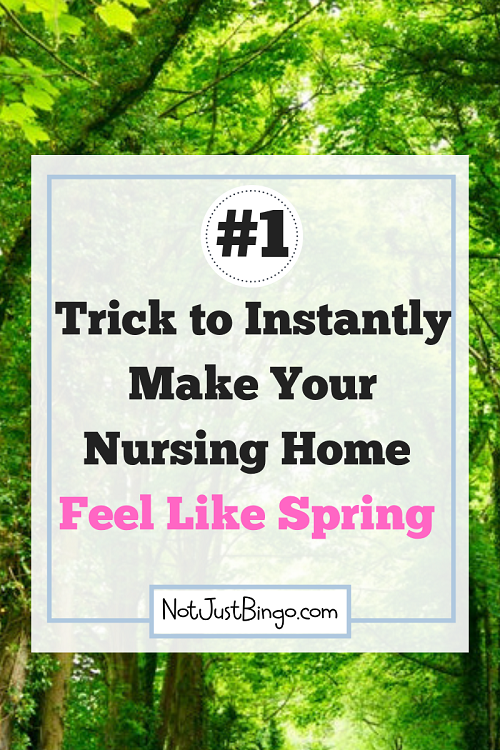 Is your senior facility still looking drab and cold like winter? No worries. Simply do this one trick each and every week with your senior residents to get your facility smelling and feeling like spring! 
#1 Trick to Makeover Your Nursing Home for Spring: Making Flower Wreaths
Making flower wreaths each and every week with your residents will instantly make your nursing home look, feel, and smell like spring. Simply pick a day each week, and have residents assist with making new wreaths by either replacing the old flowers with new ones, or creating new wreaths altogether. Here's how to get both your mobile and non-mobile residents helping with the activity:
Mobile Residents
Pick flowers from your facility's garden. Take residents outdoors and divide them into groups. Assign each group to pick a different color or type of flower in your facility's garden.
Trim greenery from your shrubbery and bushes. Encourage residents to walk to your garden's bushes to trim long pieces of greenery that can be added to the wreaths.
Distribute the wreaths. Recruit residents to walk the halls to hang the finished wreaths on hooks and on doors throughout your facility.
Non-Mobile Residents
Sort the flowers by colors. Encourage seated residents to divide the collected flowers by color, so that they can easily pick the flowers that they want to use for the wreaths they are making.
Use craft wire to make wreaths. Supply residents with medium gauge craft wire that they can wind several times in a circle to create a wreath. Vary the size of the circles based on where the wreaths will be placed. For instance, make larger circles of about 12″ for doors and smaller wreaths of about 8″ for hooks in the hallway.
Make small bundles from the flowers. Pass out green floral tape to residents to create small bundles of flowers. Encourage residents to use a variety of colors and flower types to create the bundles.
Attach the bundles to the wreaths. Show residents how to weave the stems of the bundles through the craft wire wreaths, making sure to attach floral wire to affix the flowers if necessary.
Tie ribbons to the wreaths. Invite your artistic residents to tie bows made of ribbon, and to attach them to the top of each wreath.