How to Get Your Assisted Living Residents
Interested in Your Outdoor Garden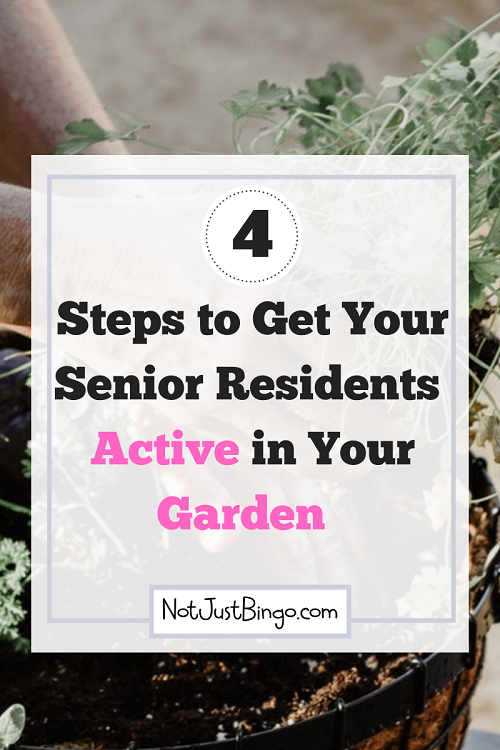 Struggling with getting your senior residents interested in your facility's outdoor garden? Then let us show you the four steps for getting more of your residents in your garden this year. Here's how:
Step #1: Garden Walk-Through
Organize a Garden Tour. Arrange to take residents on a walking tour of your outdoor garden in its existing condition – with all the weeds, old shrubbery, and bare spots. Ahead of time, take out several chairs to your garden so that residents can sit down during the tour as you point out where vegetables and flowers were planted the previous year. During the activity, encourage residents to discuss whether they want to continue with the same site plan or create a new landscape design with different crops or flowers. Be sure to bring along markers to help mark sections within the garden to help residents better envision this year's garden landscape.
Step #2: Garden Design
Finalize Site Plan. Once residents have decided on what they want to plant (e.g., vegetables, herbs, flowers, etc.), then create a drawing encompassing their plan. Invite a family member who is skilled at drawing or an artistic volunteer to use colored pencils to draw a rendering of the proposed garden on a large sheet of paper. Display the finished drawing for all to see in a common area, and encourage feedback from residents.
Step #3: Garden Prep
Take a Trip to Local Nursery. Organize a trip to take residents to your local nursery to purchase seeds, fertilizer, soil, and gardening supplies. Use the time at the nursery to ask questions of the nursery staff that you or your residents may have about certain crops or flowers.
Schedule Garden Crafts. Plan several craft activities on your monthly calendar that relate to gardening. For instance, invite residents to help you create vegetable markers to place throughout your garden by painting rocks and using paint pens to label them. In addition, provide residents with last year's terra cotta pots to repaint for this gardening season. Finally, schedule a few fun garden art projects, like painting wooden birdhouses or recycling old materials to make creative garden sculptures.
Create a Maintenance Plan. Invite residents to help with watering and maintaining the outdoor garden, and ask them to record their maintenance activities in a garden log. Additionally, try to organize monthly meetings so that garden members can discuss what is going well, and what needs to be addressed in the garden.
Step #4: Garden Party
Plan Weekly Garden Parties. To get more of your residents interested in the garden, be sure to host weekly garden parties in your outdoor garden. For the parties, create a different theme each week, like a Garden Butterfly Party (where you reveal a new butterfly feeder), a Garden Tea Party (where you serve tea), a Flower-Arranging Garden Party (where residents pick flowers to create arrangements for indoors), a Garden Cupcake Party (where you serve cupcakes), or a Garden Painting Party (where residents paint or sketch what they see in the garden onto canvas).