How to Create Fun Marshmallow Peeps Activities
for Your Senior Residents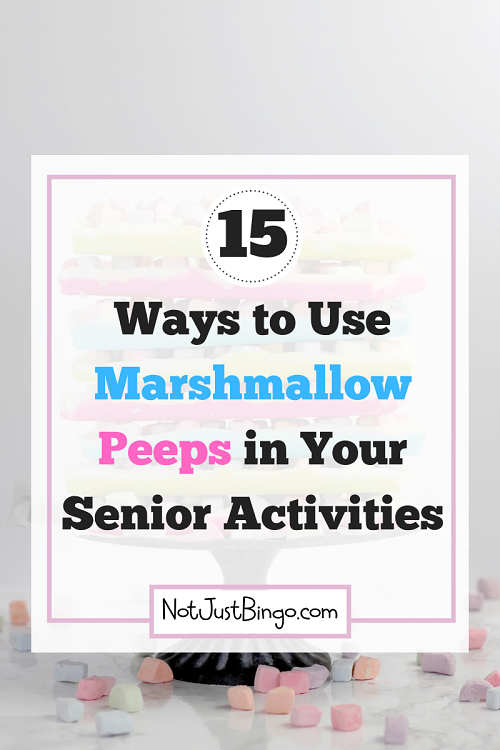 Need help thinking of ways to use Peeps this Easter with your senior residents? Simply substitute the colorful marshmallows in some of your regular activities and games. Here are a few ideas to consider:
1. Peeps Crafts – Schedule crafts where you can substitute the colorful marshmallows for your typical art supplies:
Peeps Stamps. Recruit your residents to help you get ready for the Easter holiday by making Easter napkins using the marshmallow Peeps bunnies as stamps. Simply dip the bunnies into colorful paint before applying them to white cotton or paper napkins. Once the napkins have dried, use them for your Easter festivities.
Peeps Diorama. Organize a Peeps diorama craft for your residents so that they can help you decorate for the Easter holiday. For the activity, divide residents into groups, and supply each group with marshmallow Peeps, glue, fabric, and small cardboard boxes (or shoeboxes). Then have each group work on a different Easter diorama, like an Easter egg hunt, an Easter picnic, or an Easter church service. After the dioramas have been made, recruit your facility's administrators to judge the best diorama.
Peeps Garland. Do your residents string popcorn for your Christmas tree? Then why not have them string Peeps for an Easter tree. Pass out string, plastic needles, and the colorful Peeps for residents to create garland. Then take one of your smaller Christmas trees (under 4 feet) and wrap the garland around the tree. If possible, create several "Easter trees" throughout your facility as holiday decoration.
Peeps Playdough. Use marshmallow Peeps to make a marshmallow playdough for your residents as a fun sensory stimulation activity. Once the playdough is made, divide residents into teams and have them use the dough for a fun game of Peeps Playdough Pictionary. To play, provide a member of each team with the name of an object (e.g., dog, wagon, spoon) to replicate with the dough. Award points to the first team to correctly identify the object.
Peeps Decorating Contest. Host a fun contest to see who's the best at decorating Peeps. Supply residents with icing tubes, sprinkles, and Easter candy to decorate the marshmallow Peeps. If you're using the marshmallow Peeps bunnies, then have residents decorate the "Best Easter dress" or if you're using the marshmallow Peeps chicks, then have residents decorate the "Best Easter bonnet."
2. Peeps Games – Coordinate fun games using the marshmallow Peeps as the game pieces:
Peeps Checkers. Schedule a fun and tasty checkers game with your bedridden resident using the colorful marshmallows. Arrive at her room with a checker board and marshmallow Peeps chicks (in two different colors) for the activity.
Peeps Minute to Win It Games. Use a stopwatch to challenge your senior residents to several fun Minute-to-Win-It games using marshmallow Peeps. For instance, seat two residents at a table to battle it out during a Peeps Stack – to see how many Peeps bunnies they can stack in a minute, or set up an Easter basket in the middle of the floor and seat residents in a circle around the basket to see how many Peeps they can toss into the basket in a minute.
Peeps Golf. Set up a few golf tees in the backyard for residents to practice their golf swing. However, instead of using large marshmallows for residents to hit off the tees, use marshmallow Peeps chicks to see how far residents can hit them.
Angry Peeps. Introduce your residents to the popular game Angry Birds by creating a fun variation – Angry Peeps. To play, line up marshmallow Peeps bunnies on a table for residents to knock down using rubber bands. Before the game begins, show residents how to fling the rubber bands safely so that they knock down the colorful bunnies.
Peeps Roll. See how straight your residents can roll a marble as you have them play a fun game of Peeps Roll. To play, set up several marshmallow Peeps bunnies at the edge of a long table, and have your resident sit at the other end to roll a marble down the length of the table to knock off one of the bunnies.
3. Peeps Tasting – Organize fun snack parties for residents to sample the marshmallow Peeps in their favorite snacks:
Peeps S'mores. Supply residents with graham crackers, mini chocolate bars, and warmed marshmallow Peeps (from the microwave) to make tasty s'mores.
Peeps Hot Cocoa. If the weather is still chilly in your area, then host an afternoon Peeps hot cocoa party where you serve mugs of hot cocoa with adorable Peeps chicks floating on top.
Chocolate Fondue Peeps. Set up your chocolate fondue pot for residents to make and sample their own "chocolate Easter bunnies." Simply stick the marshmallow bunnies onto wooden skewers or lollipop sticks before dipping the bunnies into the melted chocolate.
Peeps Rice Krispies Treats. Well, who doesn't like Rice Krispies treats? Show your residents how to make the microwave version of the popular treat using marshmallow Peeps instead of the traditional marshmallows. Once the treats have set, encourage residents to wrap up the leftovers to pass out to visitors.
Peeps Popcorn Balls. Pass out disposable gloves for residents to wear as you show them how to use marshmallow Peeps to make colorful popcorn balls. Simply warm up the Peeps in the microwave to mix with microwaved popcorn. Then have residents apply butter to their gloves to shape the mixture into balls.