How to Provide Great Activities
When You're Flying Solo
Some activity departments are made up of only one employee who does everything. So how can you pull off having a great activity program without a staff?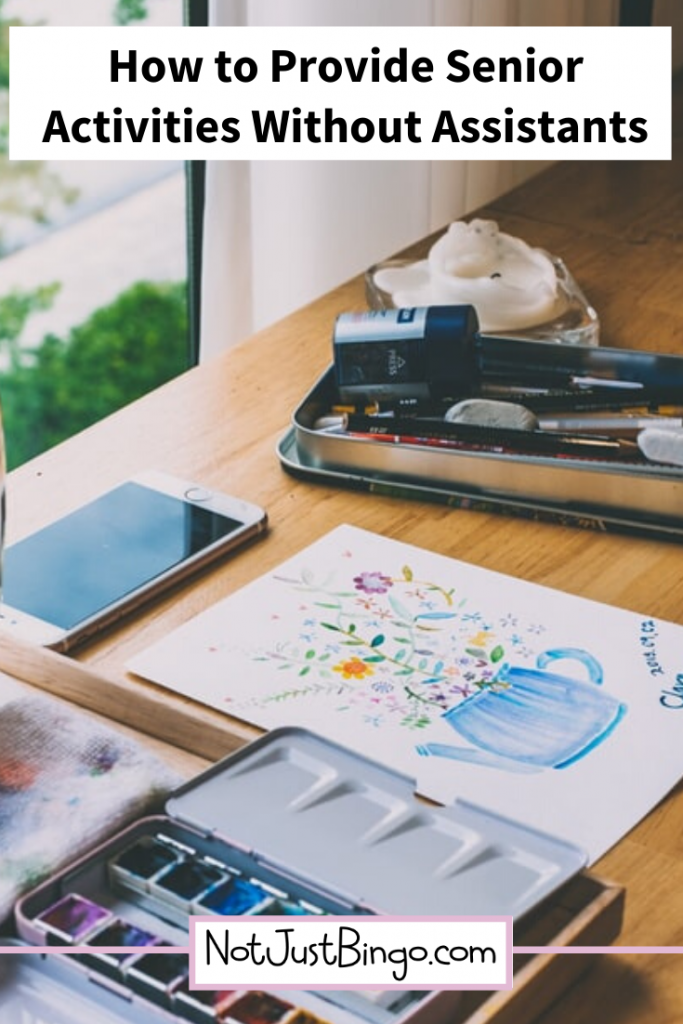 While it's nice to have an activity staff, it's not necessary. So if you're alone in your activity department, try out a few these tips to help you with your activity program:
Get Help! While your company may not be willing to supply you with the staff that you need, you must be determined to find your own "staff." Secure a variety of volunteers through local church groups, schools, and colleges to assist you with your activity program. For example, each semester contact your local college to advertise for interns – administrative, business, gerontology, or even hospitality interns.
Be Nice. Create great relationships with your residents' family members to entice them to want to help you more. In fact, start a Family Member Club that is made up of family members who want to volunteer at your facility's special events. See our article How to Involve Family Members in Your Activities.
Create a Body Double. Do you ever have residents complain about how boring it is when you're not around? That's because you're scheduling all of the fun activities to occur when you're there. Instead, set up some of the really fun activities for the evenings and weekends, when you're not there. For instance, schedule entertainers for the weekends or plan your bingo games (to be run by dependable volunteers) in the evenings. By ensuring that your residents have fun even when you're not around allows for a more extensive activity program that includes engaging activities all day every day, and not just when you are physically in the building.
Fill the Vacant Space. Fill the holes in your activity calendar with independently run activities. For instance, teach your residents how to play a variety of table games, and assist them with developing the habit of playing the games at the same time each day. Get a few ideas from our article How to Keep Your Independent Residents Entertained.
Involve the Front Desk. Recruit your facility's front desk to assist with disseminating and collecting activities. For example, leave word puzzles, like word search or crosswords puzzles, at your facility's front desk for residents to pick up, complete, and turn back in at the front desk. Encourage residents' participation by having the front desk issue activity tokens (which can be accumulated and used at future prize auctions) to residents who complete the activity.
Find Partners. Partner up with a sister community in which you can alternate hosting activities at one another's facility.
Use Your Other Administrators. Plan fun events that involve the work of other administrators. For example, host weekly dress-up dinners, in which Dining Services provides a special meal, or a monthly birthday lunch, in which the residents with birthdays that month are honored. A second idea is to ask if you can invite residents to your Marketing Coordinator's events, like their speaker series or meet and greet functions. Finally, schedule your nurse to give a monthly informational meeting or lecture about a health topic that would be of interest to your residents.
Be Inspired By Your Community. Look outside of your facility for ideas. For instance, if there is a Boys' and Girls' Club located close by, arrange to have weekly visits from the kids to read to your residents, or organize mentoring sessions for residents to meet with and mentor the kids. See our article How to Include Community Outreach Activities in Your Activity Program.
Go Passive. While it is always best to provide active, engaging activities for your residents, do not look beyond the passive activities. The key is to turn those passive activities into sensory stimulation activities. For example, host a weekly matinee featuring freshly made popcorn, pass out homemade instruments to residents to play while watching an old Lawrence Welk Show, or encourage residents to yell out the answer when watching Wheel of Fortune.