How to Offer Faith-Based Activities
to Residents
Throughout the month, it's necessary to supply residents with activities that meet their spiritual needs.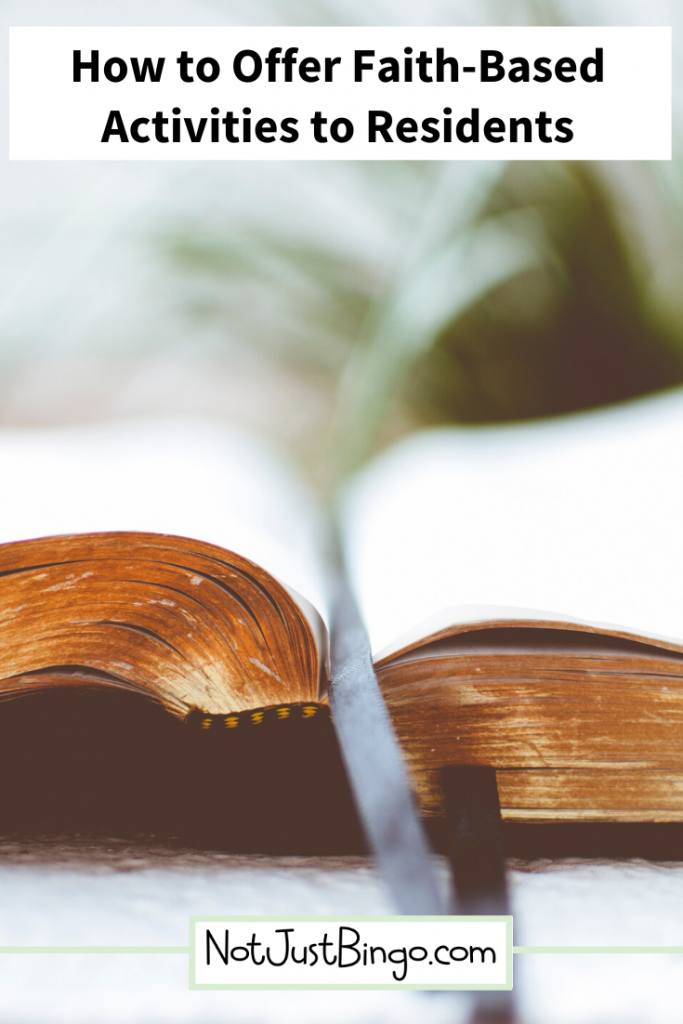 Add fun spiritual-themed activities to your monthly activity calendar that appeal to the different faiths and beliefs of your residents. Here are a few types of spiritual activities to consider including in your activity program:
Bible Study. Set up an activity in which residents come together to study passages from the Bible. Consider getting Bible study topic ideas from visiting pastors and rabbis.
Daily Devotions. Subscribe to a devotional book that residents can read as a group each morning. To increase participation, serve mini doughnuts and coffee for the residents.
Spiritual Hymns. Supply residents with hymn lyrics, which can be downloaded from your computer, to sing along to.
Monthly Fellowship Breakfast. Invite the spiritual leaders that volunteer at your facility for a special monthly breakfast with residents.
Prayer Group. Invite residents to organize a prayer group to pray for others.
Room-to-Room Fellowship Visits. Organize a small group of residents to visit bedridden residents.
Church/Synagogue Services. Invite local churches and synagogues to volunteer to lead religious services at your facility. In addition, consider asking them to tape their services at their places of worship so that you can show it on the television in your Activity Room as a church or synagogue service.
Choir Rehearsal. Recruit residents to gather to sing spiritual hymns together. Consider having the group participate in performances at your facility. If possible, supply the choir participants with choir shirts or t-shirts to wear.
Church Buddies. Adopt a local church or synagogue that can use volunteers to help with community projects that can be done at your facility.
Weekly Spiritual Retreat. Set up a calm, peaceful atmosphere in your Activity Room for residents to sit and enjoy peaceful, religious background music.
Shabbat Dinner. After your weekly Shabbat service, invite the participants and rabbi for a special dinner.
Weekly Church/Synagogue Outings. Take your residents to church or to synagogue.