How to Keep Evenings Fun
at Your Senior Facility
Don't forget to schedule fun activities during the evening hours to keep your residents entertained and engaged.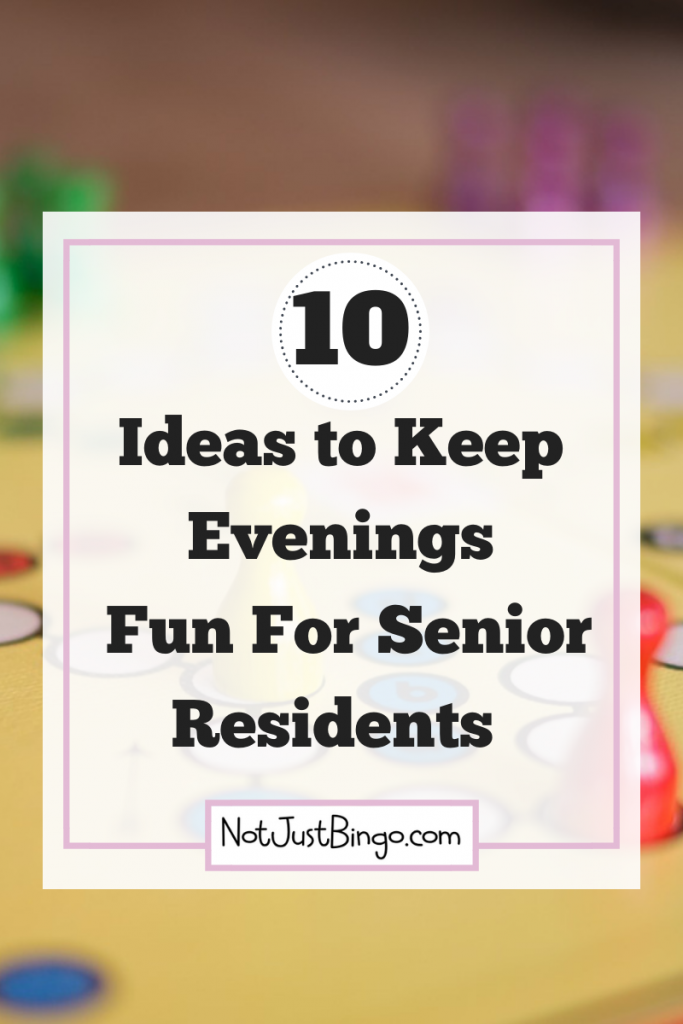 Are your residents bored in the evenings? Simply add in a few of these fun evening activities to keep your residents having fun when the sun goes down:
1. Family Game Night. Pick a day each week to invite family members and kids to stop by and have fun playing games with the residents. Set up a different board game on each of the tables in your Activity Room.
2. Movie/Documentary Night. Rent interesting movies or documentaries from your local video store to show residents. Be sure to pass out flyers about the movie or documentary during the day to get residents interested.
3. Special (non-alcoholic) Drink Night. Once a week feature a non-alcoholic drink night, like Virgin Daiquiris or Shirley Temples, in which residents enjoy a tasty drink while listening to the music of popular artists.
4. Resident-Run Activities. Recruit a resident to call bingo for a fun Bingo Night at your facility. Be sure to reward the caller for her efforts.
5. Family Entertainment. Invite family members of your residents to stop by after dinner for a fun amateur night (like Friday Amateur Night) in which residents or family members perform or share jokes or stories. Serve juice and cookies.
6. Evening Entertainers. Talk to your entertainers to see who is interested in performing for your residents after dinner instead of during the day.
7. Competitive Activities. Consider having a fun Word Search Contest every Tuesday evening or Crossword Puzzle Contest every Monday night, in which residents try to be the first one to fill out the puzzle and hand it in (e.g., to the nurse or to your lobby's concierge).
8. Independent Activities. Teach a group of residents how to play Dominoes, Poker, or another game that they can play on their own during the evenings. Before you leave for the day, just simply set up the cards or dominoes on your Activity Room table.
9. Weekly Trivia Challenge. One night per week host a fun trivia challenge, in which your residents compete. To make it fun, consider having teams, like men against women or 1st floor against 2nd floor.
10. Comedy Night. Rent a video of popular comedy shows from the 1940s or 1950s like "I Love Lucy" or "The Honeymooners." Earlier in the day, pass out flyers to remind residents about the activity. Ahead of time, pop popcorn for residents to enjoy while watching their favorite comedians.