The #1 Way to Get Residents to Stop Complaining About Your Bingo Prizes
Are your residents excited about playing bingo, but are much less excited about what they receive when they win a bingo game? Then keep reading to find out how to get your residents excited about your bingo prizes again.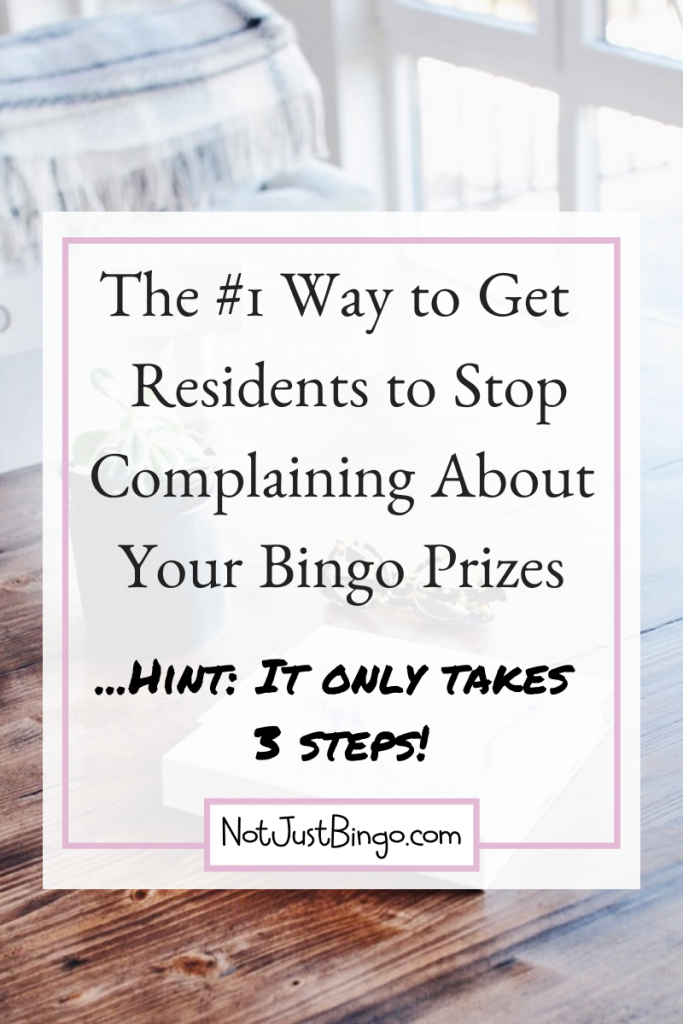 While your residents may LOVE playing Bingo, do they also LOVE your bingo prizes? Maybe not.
A lot of activity directors have problems providing residents with bingo prizes that their residents actually like.
For instance, some activity directors pass out candy as bingo prizes, which is easy to purchase and just as easy to pass out after each bingo game. But then some residents complain, "I'm not a kid. I don't want candy. I want real prizes!"
Then you have other activity directors who pass out money, like quarters or dimes. But yet again, there are residents who don't like it, saying "I don't gamble." or "Why don't you just give us real money like dollars?"
And then of course, there are activity directors who like to use the dollar store, where you can pick up inexpensive items like greeting cards, lotion, and deodorant – all those things that a resident can really use. But once again, residents issue more complaints, like "I can't use lotion. My daughter already brings me lotion." or "Why don't you offer men's socks?"
So how can you get your residents LOVIN' your bingo prizes again?
A Bingo Auction
A bingo auction is an activity where residents use play money (that they receive when they win bingo games) to bid on prizes – thus allowing your residents to choose their own bingo prizes.
THE 3 STEPS OF SETTING UP A BINGO AUCTION:
Step #1: Print out a page of Bingo Bucks (play money).
Print out a sheet of play money onto colored paper. (You can download play money from the Internet or simply use our Bingo Bucks.)
Tip: Always use the same colored paper, like bright yellow or hot pink, so that residents can easily spot their Bingo Bucks in their wallet.
Step #2: Instead of prizes, pass out the Bingo Bucks during bingo.
When someone wins at bingo, give them a Bingo Buck (unless you're playing a fun game of Double Bingo where you will award two Bingo Bucks to the winner).
Tip: Find more fun bingo ideas, like Double Bingo, to try out during your bingo games.
Step #3: Add a Bingo Auction activity to your activity calendar each month.
Plan a fun bingo auction as an activity in which residents use their Bingo Bucks to bid on prizes. Place the auction on your monthly activity calendar, and try having it the same time and day each month so that residents can look forward to it (and so that residents will not keep asking you "When's the bingo auction?").
Tip: If you find that residents enjoy the bingo auction (and they will), consider scheduling it twice per month. Just make sure to provide a variety of prizes for the auction that appeal to all your residents – even men's socks!
WHY DOES THE BINGO AUCTION WORK SO WELL?
There are three reasons why you should implement a bingo auction at your facility:
Reason #1: Residents Get to Choose Their Prizes.
By having a variety of prizes (candy, lotion, greeting cards, crossword puzzle books, dollar store knickknacks, nail polish, potato chips – whatever you can find at the local dollar store) residents have the opportunity to pick and bid on their own prizes. (No more complaining about receiving kid's prizes or receiving prizes that they cannot use. Woo Hoo!)
Reason #2: The Bingo Bucks Can Improve Participation…In Other Activities.
You can use the Bingo Bucks for other activities to entice residents to participate (e.g., "Get two Bingo Bucks if you play Balloon Volleyball today" or "Earn a Bingo Buck if your team wins today's Trivia Challenge"). (Try it. It really works!)
Reason #3: You Go Shopping Just Once Per Month.
With a bingo auction, you only have to go shopping for bingo prizes once per month. (Yippee!!) If you have two bingo auctions scheduled for the month, then just be sure to get two of everything during your shopping trip to cover both auctions.
So that's it! That's how to get your residents lovin' your bingo prizes again. So go ahead, and add a bingo auction to your activity program. Just follow these 3 simple action steps…
ACTION STEPS:
1. Print out the play money or our Bingo Bucks.
2. Pass out the Bingo Bucks to the winners of each bingo game.
3. Add a Bingo Auction on the calendar for next month.
Need help with your bingo games? Then check out our How-to Article How to Make Bingo Fun in Your Facility.