The Most Effective Way to Get Your Physically Disabled Seniors Involved in Activities
Do you have residents who are interested in activities, but don't participate because of their physical limitations? If so, then keep reading to learn how to turn those residents from passive observers into active participants.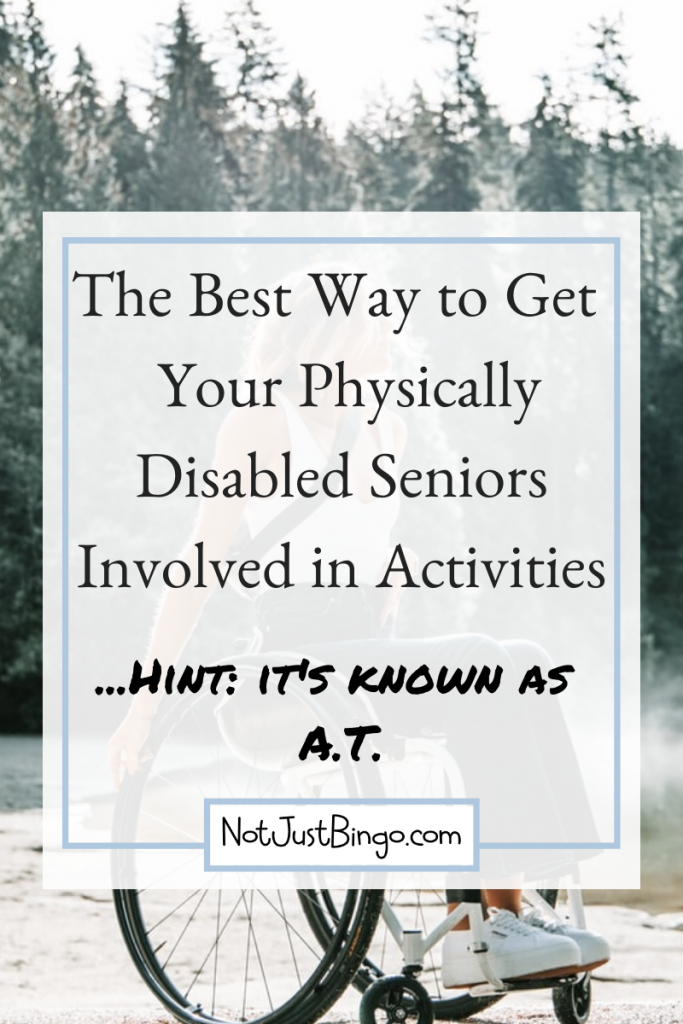 When residents with physical limitations sit on the sidelines avoiding participation in activities due to their disabilities, their quality of life suffers. Therefore, it's up to us to make sure that all our residents, no matter the disability, are actively involved and engaged in our activity programs.
So how can a resident with limited use of her arms participate in your art classes?
How can a resident with low vision participate in a game of balloon volleyball?
Assistive Technology
Assistive technology is just a fancy phrase that means providing any type of adaptation so that your resident can complete the task at hand.
Whether it's propping up a resident's arm with a towel so that she can easily paint during your art class, or using a bright yellow balloon during a balloon volleyball game so that your resident can clearly see it, adaptations are the key for helping your residents with physical limitations thrive in your activity program.
WHAT ADAPTATIONS ARE AVAILABLE FOR SENIORS?
Education professors Mari Beth Coleman and Elizabeth Stephanie Cramer discuss four types of Assistive Technology in their 2015 Art Education article "Creating Meaningful Art Experiences with Assistive Technology for Students with Physical, Visual, Severe, and Multiple Disabilities"¹:
1. No Technology Solutions: These are minimal adaptations that are made for your residents that are simple to implement and do not cost money.
Examples: Encouraging a resident who does not have full function of her legs to instead move her arms and head as she dances, giving your resident more time to complete an art project, or using a slower cadence when doing arm repetitions during your Exercise Class.
2. Low Technology Solutions: These are very inexpensive adaptations for your residents that are not complex to use nor mechanical in nature.
Examples: Winding masking tape around a paintbrush to make the handle thicker so that it's easier for your resident to grasp, attaching bells to a wheelchair or to a resident's wrist for a resident to shake during a musical instrument activity, or tying a resistance band to a resident's wheelchair so that she can use it with just one hand.
3. Middle Technology Solutions: These are lesser expensive adaptations that may have complex features which may be battery-operated, but are not computerized.
Examples: Installing sound-sensitive light switches in your Activity Room so that a resident can freely enter to complete independent activities, providing a lighted magnifier for your resident to use for reading, or playing audio books for your resident to listen to so that she does not have to turn any pages.
4. High Technology Solutions: These are the most expensive adaptations that are usually electronic or digital in nature.
Examples: Modifying a wheelchair with armrests and footplates to make it easier for a resident to sit upright in your activities, adding screen reader software to a computer for a resident with low vision to understand what is written on the screen by using a speech synthesizer or Braille display, or attaching a large trackpad (similar to what is found on a laptop) to your resident's computer instead of a computer mouse so that your resident can easily move a computer screen's cursor.
THE 3 STEPS FOR IMPLEMENTING ADAPTATIONS:
Step #1: Evaluate Your Residents' Activity Needs.
During your initial Activity Assessment of your residents, be sure to evaluate what special adaptations are needed for them to do activities, like having taller tables to accommodate a resident's larger wheelchair or using utensils like a rolling pin to help a resident who is unable to flatten clay with his hands.
Tip: During your activities, give everyone access to your adaptive materials (and encourage everyone to try them) to avoid any stigma of using them.
Step #2: Adapt Your Supplies.
Use the supplies that you already have in your Activity Room and alter them a bit to accommodate all your residents. For instance, with a crafts activity, make sure to have double-sided tape handy to help keep papers attached to the table for those with shaky hands who may have trouble keeping their paper in one place. In addition, during a word search puzzle, use a 3-ring binder to create a slant desk for a resident who needs their paper to be at an angle instead of flat on a table.
Tip: Find more ways to adapt your arts and crafts supplies in our free handout, 19 Easy D.I.Y. Adaptations…Using Items Already in Your Activity Closet.
Step #3: Recruit Volunteers to Prep the Activity.
Do you have volunteers who are looking for things to do? Then provide the instructions for your upcoming crafts to your volunteers for them to prep the materials, like pre-cutting magazine pages for a collage. Then during the activity, if you have a resident whose arthritis is acting up, you can supply her with the pre-cut magazine scraps for the project so that she does not have to cut up the pages herself.
Tip: With your arts and crafts projects, recruit volunteers to make completed projects to make it easier for residents to see the end goal, which may get them even more excited about completing the project. Additionally, by having someone complete the project before the activity, you'll have the opportunity to foresee any issues that some of your residents may have with certain aspects of the project, thereby allowing you to make any necessary changes or create more adaptive supplies.
WHY ARE ADAPTATIONS SO BENEFICIAL?
There are three reasons why implementing adaptations for your physically limited residents is so beneficial:
Reason #1: It Promotes Independence.
Instead of having residents rely on you to do things for them during an activity, like holding the paper still as they draw or handing them individual bingo chips each time their bingo number is called, your residents are able to do more for themselves.
For instance, with double-sided tape, your residents can complete their art project without you having to hold the paper still, and by placing their bingo chips in a box at an angle, they are able to easily reach and pick up the chips and lay them on their bingo card.
Reason #2: You Can Serve All Your Residents With One Activity.
Once proper adaptations have been established, you are able to create programs, activities, and events that serve all your residents, since the adaptations give everyone an equal opportunity to complete the activity.
In addition, by doing the prep work for each of your activities ahead of time, you will be sure to have any needed supplies or adaptations handy, just in case a resident suddenly needs them.
Reason #3: You Don't Need As Much Help.
Because adaptations allow you to make sure that all your residents have the equipment that they need to do the activity, you do not need as many assistants or volunteers during the activity.
For instance, simply attaching rubber bands to the handle of a paintbrush can provide a better grip for your resident so that she can paint without the assistance of an aide, or using printed coloring pages for a craft project provides a visible image that doesn't need to be drawn by a volunteer.
WHAT IF ADAPTATIONS ARE STILL NOT ENOUGH?
Finally, if even with adaptations, there are still parts of a project where your resident is unable to participate, then have him provide input on the activity by gesturing and directing a helper as to what he wants done with the activity or project. Always make sure that your resident feels like he is in complete control of the project, even when he cannot physically participate.
So that's it! That's how to get your physically limited residents engaged in your activities again – by using adaptations. So begin adding adaptations to your activity program. Just follow these 3 simple action steps…
ACTION STEPS:
1. Evaluate your residents' activity needs.
2. Adapt your supplies by making a few modifications.
3. Prep your activities to have pre-made supplies for those who need them.
Need more ideas for providing activities for residents with different abilities? Then sign up for our FREE email tips series that includes "The 3 Best Ways to Provide Activities That Are Appropriate for Everyone."
¹Mari Beth Coleman & Elizabeth Stephanie Cramer (2015) Creating Meaningful Art Experiences with Assistive Technology for Students with Physical, Visual, Severe, and Multiple Disabilities, Art Education, 68:2, 6-13